Blessed Imbolc
And a comet last seen, before many dispensations
For all who celebrate Imbolc and St Brigid's Day, or Goddess Brid, or Mary if the Gaels and so on… a blessed day to you.
As I look at all the posts marking this day, I am grateful for the diversity of perspectives!
The Muses and the Mediatrix is a reader-supported publication. To receive new posts and support my work, consider becoming a free or paid subscriber.
For me, I have been drawn to the ancient Brid, through walking the path of my Christian ancestry. As I have walked this journey through the hard parts, without washing my hands of culpability, I have become fascinated by the idea of the coming of the Era of Incarnation. Of a deeper seepage from the imaginal into flesh.
One of my favourite ideas surrounding the complexity of what a threshold looks like between two dispensations, is when the subject is herself a threshold deity and person. For me, the great goddess now in the flesh, breastfeeding baby Jesus as Mary of the Gaels, is one of the most extraordinary ideas. If we can tell the truth about the tragedy of state behaviour, and if we can embrace what was organic, perhaps there is more of an integrative connection than meets the eye.
When I was nursing my own babies, if I heard another baby cry, my instincts kicked in, and the milk began to flow. A haunting indication of the seepage… that the "scandal of our particular" has also, coalescence at its center.
What if buried deep in the complexity and pain of this epochal shift, is a nurturing element we have forgotten? A far less rigid interpretation from "both sides", where there is a land for everyone, that flows with milk and honey.
To my goddess friends and ancestors, thank-you for your beauty, and for your dedication to deepening this tradition. You are an inspiration to me and are always a part of me. Ever present.
This is especially for my Christian ancestors… thank-you for understanding, as I move beyond the surface of fear, and into the depth of our tradition. Thank-you for your faith and devotion, and for the earth-based intuitions and incantations you never lost, that nurture me each day.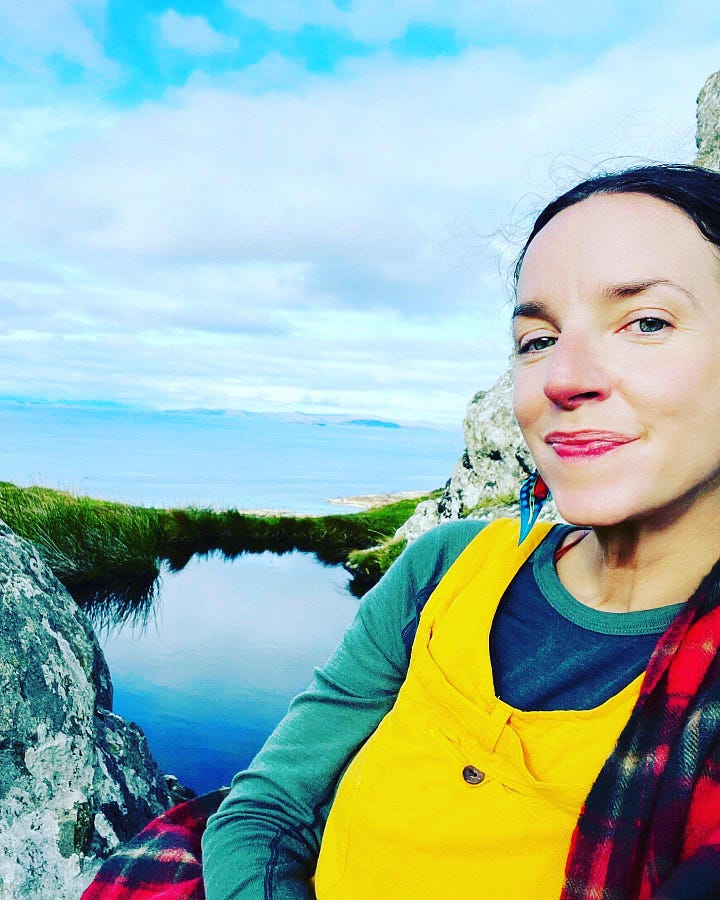 In these photos:
1. Me sitting by Brigid's Well, or the Tobar nah Aois, (Well of Eternal Youth) on Iona
2 and 3. We found Brigid's Well in the field outside of Glastonbury
4. The Green Comet will be visible tonight.
For me, knowing that this comet was last seen by our ancient, common ancestors, before the many, many dispensations shifted in and out like grasses, helps me to see a much bigger picture.
Oh Mystery, I am in awe. We are seeds. We are pollen. Blown by wind. We are trees. We are root systems, watered by change. We are fire, and we burn for wild, holy love.
We are the earth herself. Sentient. Alive. Writhing. Sensuous. Tempered by … well… the permeation, the soaking, the can't get away from it, love.
Blessed Imbolc, one and all!
PS - for anyone interested in learning more from a very considerate, deep, teacher, about Brigid the Goddess… or the Festival of Brigid, I recommend my friend Tara Wild, who I invited to keen on my upcoming folk opera album. Her presence on the album is so wonderful, and I cannot wait to share it with you.
At 11am Pacific Standard Time today, Tara is offering a very thoughtful 2-hour presentation on Brigid, and in particular the history of the Brigantes in Britain.
https://celticroundhouse.com/ancient-feminine/
.
The Muses and the Mediatrix is a reader-supported publication. To receive new posts and support my work, consider becoming a free or paid subscriber.